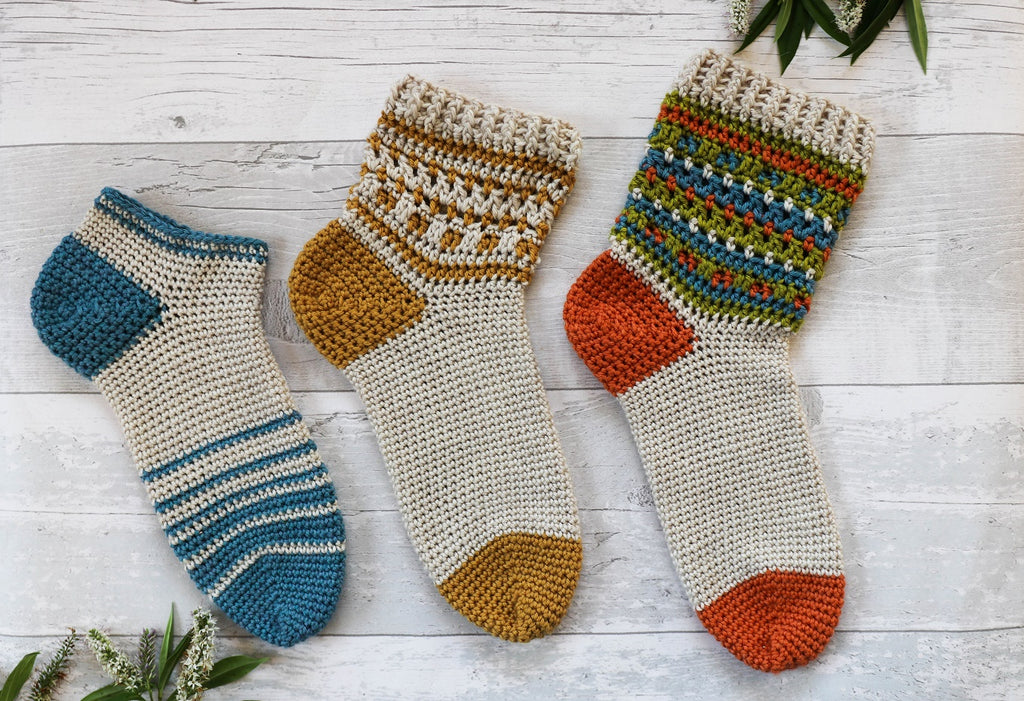 Totton socks
Customers with printed version of the pattern - please note there is no colour B in the leg of medium sock. The leg is worked in two colours not three, my biggest apology for this misprint.
These super fun and comfy socks are a joy to make and will keep your feet lovely and warm. They are also perfect to make as gifts for loved ones, warm feet warm hearts. They are toe-up construction with short row heel. The leg part of the sock is made in fun and easy to follow pattern which results in a very charming and comfortable sock.
The pattern includes three variation of the sock: shortie, medium and long leg.
Pattern note - pattern is written using UK terminology with US conversions in blackets in abbreviation list.
Materials
Fyberspates Coopknits Sock Yeah DK - 75% Fine Superwash Merino, 25% Nylon – 112m (122 yrd) to 50g
Shortie socks

Medium leg socks

Long leg socks

A – Quartz 218 x 1

B – Beryl 219 x 1

A – Quartz 218 x 2

C - Sphene 215 x 1

For the largest size I have used almost everything in contrast colour. Please make a tension swatch in colour A.

A – Quartz 218 x 2

D – Hecate 208 x 1

B – Beryl 219 x 1

E – Aeacus 210 x 1

If you would like to do the long leg version in just two colours you will need 2 x skeins of each colour.
4.00 mm (US 6/G) crochet hook
3.50 mm (US 4/E) crochet hook
2 x easily removable different coloured stitch markers (I'll be using green and red markers)
The pattern has a choice of three shoe sizes:
Small: 3-4
Medium: 5-6
Large: 7-8
Leg length: Medium - 11 cm (4.3 in), long – 14 cm (5.5 in)
Related products